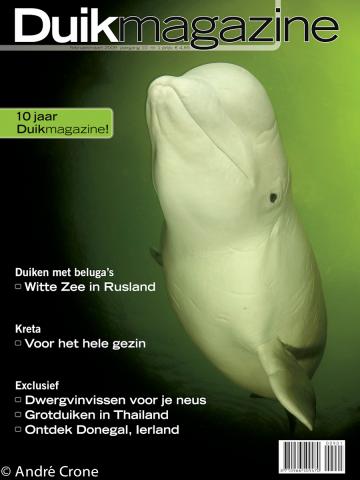 I just received an image of the most recent cover of Duikmagazine, which is the best diving magazine here in the Netherlands. This great magazine is mainly made by Dutch journalists and it's not a translated magazine from abroad. My picture of a Beluga is featuring on the cover, this is my 30th cover. The current issue is featuring my latest, eleven page, story about the White Sea. We have been diving in the White Sea last September during the White Sea underwater photography cup. Diving in the White Sea was a dream come true. I believe Russia has a lot to offer to divers. This is really un undiscovered destination for many divers that come from outside Russia. The Russian divers that we met were very friendly. This was really a week diving with friends.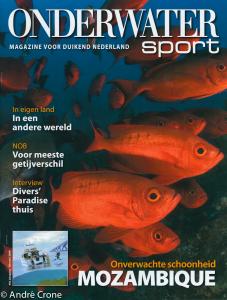 I was very fortunate during the photography festival. I won the first price in the wide angle with model category. That must have been a tough decision for the jury. The image that won isn't even in the article. There were just too many great wide-angle opportunities during our stay over there. It still really amazes me to see that the arctic and arctic waters are so colorful. Our trip to the White Sea will for sure not be our last trip to the poles of our planet.
I have already mentioned Mozambique as one of my top warm water destinations many times here on my blog. This month we have published a story about Mozambique in the magazine "Onderwatersport". That is the magazine of the Dutch diving association. One of my images from a school of crescent tail bigeye fish is chosen to be on the cover of that magazine; thats number thirtyone.