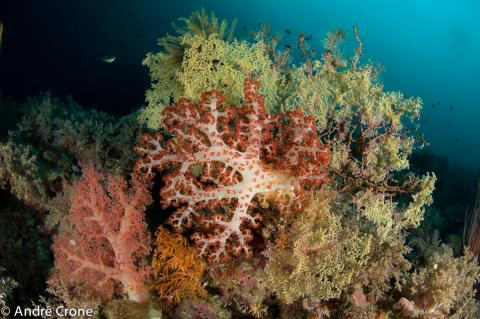 Lissenung Island Papua New Guinea, a little paradise.
Imagine you have the opportunity to stay on a small private island in the tropics. Large palm trees, white beaches and an azure blue sea. Impossible? The Lissenung resort in Papua New Guinea offers all this. The picturesque island, which can accommodate up to fourteen guests, offers a wonderful base to explore the underwater nature of Papua. Steep reefs are the home of an unbeleivable diversity of tropical life.

The island of New Guinea is the second largest island in the world (after Greenland). Furthermore it is the highest tropical island in the world with peaks up to 5000 meters altitude. The island is divided into two parts. The western part belongs to Indonesia and is perhaps better known as Irian Jaya or West Papua. The eastern part of the island is Papua New Guinea. The island lies north of Australia. From the north of Australia, you can fly several times a day into the capital Port Moresby, but also from Singapore can reach Port Moresby. From here you can take a domestic flight to the province of your choice.
Diving is very divers over here. Small critters live on the rich reefs. Thanks to sometimes strong currents big stuff like rays en sharks are common over here. And from the second world war their are a number of wrecks that can be found over here. Expecially the wrecks of Japanese airplanes were our favorites.