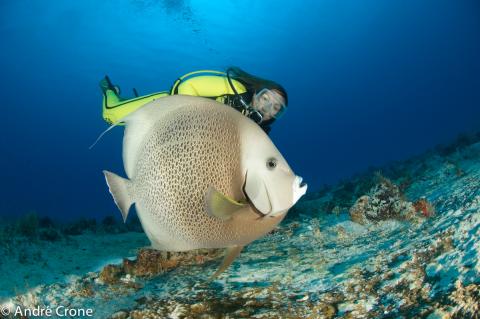 Diving in Cozumel

Cozumel an island near the Mexican city of Cancun. From Cancun you drive to Playa del Carmen where you can take the ferry to the island of Cozumel. The island is situated along one of the largest reefs in the world. The reef runs from Isla Mujeres to the coast of Honduras. The reefs are spoiled with nutrient-rich water that provides a rich marine life. Visibility under water is almost always good. Visibility greater than 50 meters is no exception to Cozumel.
In Cozumel there are several diveoperators who can take you diving. You will be taken to the various dive sites with a boat. Usually you will stay away for 2 or 3 dives a day. Afterwards you go back to the island to enjoy a delicious Mexican lunch.

Around the island of Cozumel are numerous dive sites. Most dive sites are located in the southwest of the island. Thanks to the large number of dives sites Cozumel has something to offer for every diver. Depending on experience and requirements, the appropriate dive site can be found.