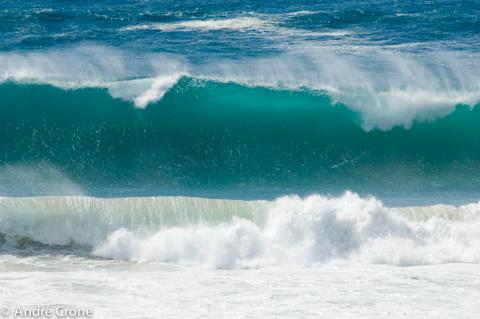 Waking up to our last day of diving in Tofo Beach and we almost have to pinch ourselves. It is another beautiful sunrise over the Indian Ocean, with the sound of the waves gently breaking on the beach just in front of our chalet, and still one more day of diving to go. Yes, we had heard the stories, had seen the photos and watched the DVDs, but until we were here it was hard for us to believe it could be true. But here we were - one week of diving behind us and already we had had close encounters with more than seventy Manta Rays and twelve Whale Sharks!

The lure of the "big stuff" is what had brought us here. More specifically, we had come to see and photograph Whale Sharks. Having heard so much about Tofo in the last year, we had been looking forward to our trip with great expectations. Our family and friends were more concerned with where we were going than why. They had a somewhat different perspective - "Are you crazy?", "It can't be safe!" etc... Their reaction was nearly unanimous, based mostly on obscure African news memories of brutal war, bitter poverty, famine and floods. What we were to learn from our time in Mozambique is that "conventional wisdom" was way out of date and the diving was out of this world!
   
Tofo Beach is just over 500 kilometers north of the capitol, Maputo, and is a 20 minute drive from the provincial capitol of Inhambane. Steeped in history and culture, Inhambane is one of the oldest cities in southern Africa. Contact with Arab traders dates back to at least the 11th century and Vasco de Gama himself sailed into Inhambane Bay in 1498.

Mozambique has the second longest coastline in Africa, stretching from it's border with South Africa in the south to Tanzania in the north, and is bordered in-land by Swaziland, Zimbabwe, Malawi and Zambia. On our trip, we would only get a glimpse of the south of the country, traveling overland from Johannesburg, but the potential for diving exists in so many parts of the country, many inaccessible and unexplored (underwater) due to lack of infrastructure.  What little infrastructure that had been left by the Portuguese was barely intact following Mozambique's "civil" conflict which only ended in 1992.