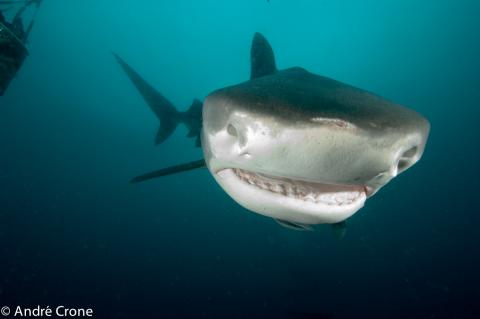 Sitting down with a nice cup of coffee we still cannot believe what we have experienced today. A little more than half a day of diving lies behind us. Not a normal dive day, no, diving with Tiger Sharks is diving in a different way. You either enjoy or fear these enormous animals. We were to found that out ourselves this day. Family and friends thought we had gone crazy. Tiger Sharks are well known as agressive animals. And we were going to dive with them in open sea. Completely stupid they declared us. With all the information we had about these killing machines we thought we only had to fear them. But at the end off this special diving day we are charmed by the Tiger Shark but also extremely impressed with its length and power.

We had been diving in South Afrika for quite some time now. But we did not have the experience of diving with sharks that were close by. And for sure, you cannot leave South Afrika without having seen any sharks that come very close. In the sea around south Afrika there are several sorts of sharks. You can dive with the Greath Wites in Cape Town, go diving Protea Banks to sea Hammerheads and other sharks, and go to Unkomaas to join the Tiger Sharks etc. This time we chose to go diving with Tiger Sharks in Unkomaas.
So we joined Walter from African Watersports to go diving the Aliwal Shoal at Unkomaas. And for sure it was impressive.